Post by erinyi on Mar 8, 2007 15:31:34 GMT -5
so i saw this and i thought id post for everyone to see =P
Thunderaan the Windseeker quest chain:
This quest begins when you loot either the Right or Left half of the Bindings of the Windseeker, which drop off Baron Geddon and Garr in Molten Core. Upon looting one of these, you must travel to Silithus and talk with the Highlord Demetrian, who will then give you the Vessel of Rebirth, which will start the quest.
Quest: Examine the Vessel
Who: Highlord Demitrian
Starts in: Silithus
Quest Level: 70
Level to attain: 60
Items Needed: Vessel of Rebirth
Quest: Thunderaan the Windseeker (Raid)
Who: Highlord Demitrian
Starts in: Silithus
Attain: 60
Level: 63
Items Needed: 10 Elementium Bar
1 Essence of the Firelord
1 Binding of the Windseeker (left) dropped by Baron Geddon
1 Binding of the Windseeker (right) dropped by Garr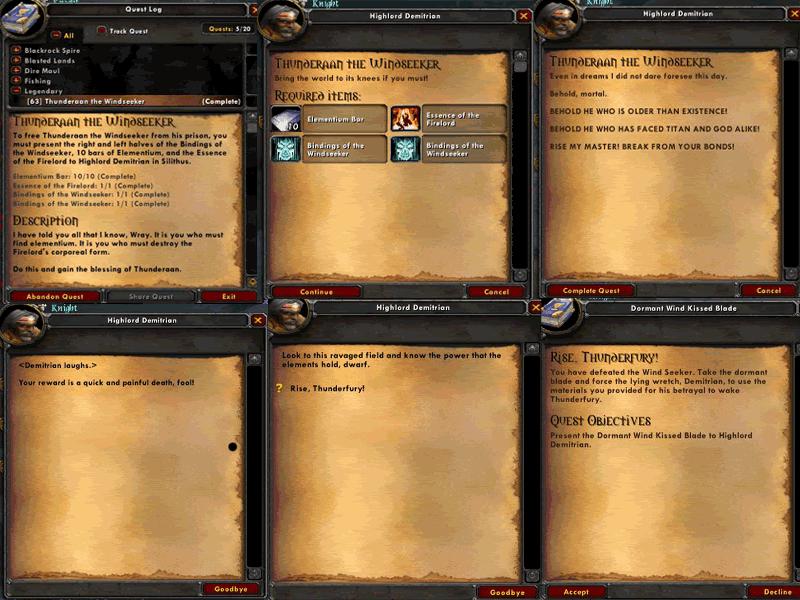 Highlord Demetrian will guide you to Earthcaller Franzahl in Winterspring, who will tell you of a Goblin named Krixix who was swallowed up by a rift in the earth while meddling with the mysteries of Elementium. It is he who holds the secrets!
Krixix is located in Blackwing Lair, of course. Elementium ore drops random off the goblins in BWL as well. So, what's needed to make a bar of elementium?
1x Elementium Ore - Drops from Goblins in BWL 3x Elemental Flux - Purchase from Smithing Vendors 1x Firey Core - Drop from MC 10x Arcanite Bar: Multiply that by 10 for the total amount of bars needed and you're looking at a significant expense.
Quest: Rise, Thunderfury!
Who: Item: Dormant Wind Kissed Blade
Starts in: Silithus
Attain: 60
Level: 63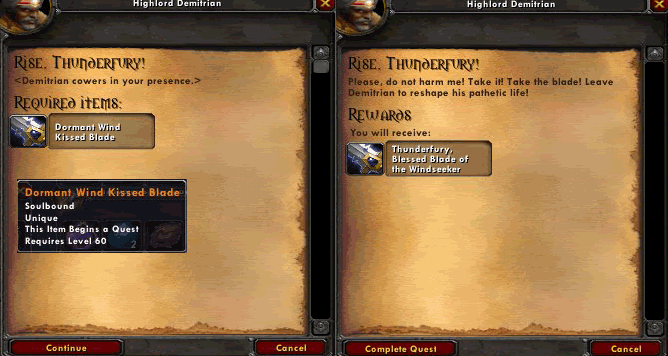 After gathering all the items needed, return to the Highlord Demetrian in Silithus and summon Thunderaan. Rather than gain his blessing, he's evidently rather angry after his imprisonment, and you must defeat him.
Honestly I can't say how hard of a fight Thunderaan is. Even with our best efforts to keep the summoning of Thunderaan a secret, half the server showed up for the event, and Thunderaan died quite quickly as a result. After defeating him, you loot the Dormant Wind Kissed Blade and have the now groveling Demitrian give you Thunderfury, Blessed Sword of the Windseeker.
Easy enough? Right?
About the weapon itself, which has been the subject of much debate on the Raid and Dungeons forums:
The proc rate is right around 30% after 10k hits worth of testing.
The AE debuff does not break CC, and the debuff works on BWL bosses. The DD is single target.
Good luck to all of you searching for Thunderfury, Blessed Blade of the Windseeker!